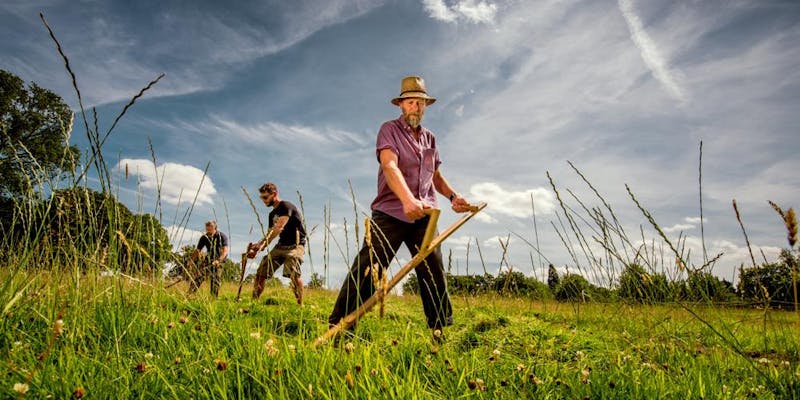 Thursday, 18th of July 2019 – Down to last spaces
Friday, 19th of July 2019 – Fully booked
£5 contribution to Wadhurst Community Gardens
Please email info@wadhurstpark.com to book your place
This one day practical course run by Chris Riley introduces the participant to the basic techniques of using a scythe safely and efficiently to help manage small areas of wildflower grassland. The course covers how to set your scythe up to suit your personal requirements and also how to sharpen the blade of your scythe.
The course will also cover the basic principles of creating small wildflower grasslands including species selection, seed collecting, producing plant plugs, site preparation, control of weed species, and on-going management requirements.
Chris Riley has a wide-ranging expertise in the use of the scythe, and has won awards for quality mowing in competitions. He is committed to the promotion of the scythe, as a prime example of a low tech, low carbon alternative.
Agenda:
9.30am: Arrivals, registration and coffee
10:00-12.30:
The course is based around lightweight Austrian scythes. Instruction is provided on the three interacting factors that make for successful mowing:
how to set up the grips correctly for the user's proportions
how to keep the edge sharp
how to mow with a movement that is efficient for the body and effective in cutting the vegetation
12.30-13.15 Lunch
1.30-3.30pm: Other areas that will be covered include:
history of the scythe
comparison of English and continental scythes
description & parts of a scythe
principles of movement
how to effectively hone the edge with a whetstone
adjustment of blade angles, according to mowing circumstances
different blades for different purposes
demonstration of peening
maintenance and repair of blades
15.30 Depart
Please email info@wadhurstpark.com to book your place